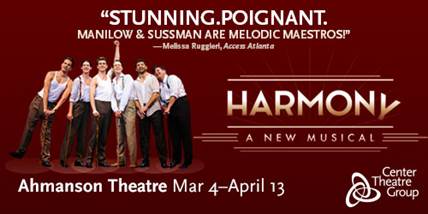 Ahmanson Theatre
March 4 – April 13, 2014
Music by Barry Manilow
Book and Lyrics by Bruce SussmanDirected by Tony Speciale
BUY NOW AND SAVE UP TO 35%!Great mid-orchestra seats at $39 (reg. $60) and $49 (reg. $70) on performances through March 25th. Call 213.972.4400 and refer to promo code "BOYBAND" or visitwww.centertheatregroup.org/boyband*
A new musical with music by Barry Manilow and book and lyrics by Bruce Sussman
Celebrate the six-part harmony and an unforgettable true story of friendship and adversity.
They were the first sensational boy band: six talented young men who came together in 1920s Germany and took the world by storm with their signature blend of sophisticated close harmonies and uproarious stage antics.  The Comedian Harmonists sold millions of records, starred in a dozen films and packed the houses of the most prestigious concert halls around the globe until the world they knew forever changed.
"One of the most incredible, if nearly forgotten stories to emerge from this dynamic period was that of The Comedian Harmonists - six remarkably talented young men – who took the world by storm - and then found themselves on a collisions course with history." – Barry Manilow and Bruce Sussman
See previews of the show now at www.youtube.com/watch?v=FLf7ZwUiAGE
Groups of 15 or more can save up to 50% off performances through March 23. Student groups of 15 or more can purchase Balcony seats for $16 for performancesTuesday – Friday.  Call 213.972.7231 to reserve now.
Recommended for children age 13+
*Tickets only $39 for mid-orchestra seating (Rows R-W, regularly $60) on weeknight performances (Tues-Fri) March 4-25.   For performances Saturday and Sunday, March 8 and 9, enjoy savings of 30% with $49 tickets (Rows R-W, regularly $70).