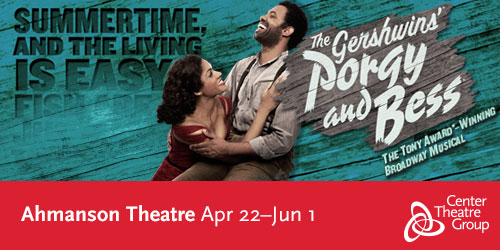 Ahmanson Theatre
April 22 – June 1, 2014
By George Gershwin, DuBose and Dorothy Heyward, and Ira Gershwin
BUY NOW AND SAVE UP TO 30%  APRIL 22 TO MAY 2!Great Mezzanine (C-P) and Mid Orchestra (R-W) seats from $45-$75 (Reg $65-$99). Call 213.972.4400 and refer to promo code "BROADWAY" or visit www.centertheatregroup.org/Broadway
Get swept away by the lush Gershwin score of this great American Tony Award®-winning musical.
The Gershwins' Porgy and Bess is set in Charleston's fabled Catfish Row, where the beautiful Bess struggles to break free from her scandalous past, and the only one who can rescue her is the courageous Porgy. Threatened by her formidable former lover, and the seductive enticements of the colorful troublemaker, Porgy and Bess' relationship evolves into a deep romance that triumphs as one of theater's most exhilarating love stories.
Accompanied by a lush 23-piece orchestra, this re-envisioned Broadway production includes such legendary songs as "Summertime," "It Ain't Necessarily So," and "I Got Plenty of Nothing."
Groups of 15 or more can save up to 35% off select performances through May 18!
Student groups can also purchase $22 Balcony seats for performances Tuesday – Friday.
Call 213.972.7231 to reserve now.
*Save up to 30% on performances April 22 - May 2, 2014 in the Mezzanine (C-P) and Mid Orchestra (R-W). Prices range from $45-$75 (Reg $65-$99). Subject to availability.
http://www.youtube.com/watch?v=2XeFmbTNLJ0