Powered by CircleSquareLA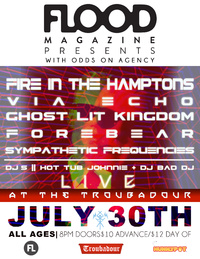 Join us tonight at the world famous Troubadour for Ghost Lit Kingdom, stay for the DJ stylings of Hunnypot's very own Hot Tub Johnnie. Celebrating the release of their debut EP "I Was Born" (live in-studio video below), GLK's set will be encrusted in music of a parallel quality. 
From the virtuosic vigor of Forebear, the dreamy glitz of Fire In The Hamptons, and all the way to the powerful prose of Via Echo, this bill, presented by FLOOD Magazine and Odds On Agency, features some of LA's best indie rock to pair with Hunnypot's favorite five-peice. 
Email

This email address is being protected from spambots. You need JavaScript enabled to view it.
Subscribe
to Hunnypot News