Introducing the electrifying new single "Power" by Them Vibes! With an explosive blend of rock 'n' roll and soul, this high-voltage anthem ignites the senses and sets the stage ablaze. Boasting a relentless rhythm section, searing guitar riffs, and soaring vocals that exude raw intensity, "Power" propels listeners into a sonic journey of liberation and resilience. Embracing the essence of unbridled energy, this powerhouse track captures the spirit of rock at its finest. Prepare to be electrified when "Power" by Them Vibes surges through your speakers, redefining what it means to rock with unstoppable force!
Hunnypot is proud to be THEM VIBES official sync representative Masters & Publishing, ask us about LICENSING!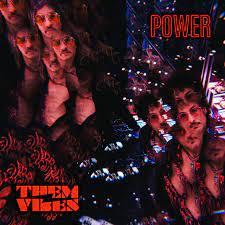 Formed and honed in East Nashville, TN by lead singer Brother Love and guitarist Alex Haddad, Them Vibes shook the foundations of Music City with their blitzkrieg live show and soulful songwriting. Inflected with the rhythmic sway of The Faces and T-Rex, the raw energy of the Rolling Stones and the Black Crowes, and the whiplash funk of Sly And The Family Stone and James Brown, Them Vibes has risen to a sonic experience all of their own.    
The band has opened for household names like Cage the Elephant, Cheap Trick, Lynyrd Skynyrd, and The Flaming Lips. With four records under their belt- Shine On, TV, Electric Fever, Why The Funk Not- their songs have been featured on CBS's NCIS: LA, ABC's The Rookie, Showtime's Shameless, Amazon's Sneaky Pete, Netflix's The Ranch, and a National T-Mobile campaign. America's number one independent radio station, Lightning 100 WRLT, ranked their self-titled single, Electric Fever, number 22 in the Top 200 Songs of The Year and Top 4 Best Shows To See Live!  A Year later their funk-heavy cut, Right On, was ranked number 4, rising above innumerable major label acts. "Funky Family" made the Top 100 Songs of 2022 in Nashville's Lightning 100 Radio.
Last year, Them Vibes toured the USA with soul artist Maggie Rose, bringing their explosive live show to theaters, clubs and festivals from coast to coast. Now, with a brand new studio tan, the band is hitting the American highway in support of a new album slated to be released in the fall.  Until you can spin it, get yourself a ticket- your soul will thank you.