Hot Tub Johnnie and the HP Radio crew stacked the speakers high and blew out The Mint with another killah show last week. Hot Tub treated us to some golden nuggets by Big Joe Turner, Phantogram, King Washington, Broken Bells, Turbo Lightning and much more.
Our guest DJ for the night was none other than LA based music tastemaker/supervisor, Sanaz Lavaedian of mOcean. Sanaz was back for her 3rd time in the Hot Tub and it was more than a charm as she treated us to an explosive set of great new jams. Included in her playlist was Flume, Chet Faker, Son Lux, Glass Animals, The Knife and many more active groundbreaking artists.
Kicking off our live action were LA based pop, singer-songwriter trio, Distant Cousins. The trio took the stage and performed a brilliant set of vibrant, foot-stomping heartfelt alt-folk, pop songs in the vein of Mumford And Sons.
LA based r&b, soul, pop artist, Magda and rapper, producer, Sum-In-1 were next to hit the stage and treat us to a high energy dance set with heavy beats. Magda kicked it off first with her beautiful pop jams and later joined by Sum-In-1 to perform their latest single, "Fill Me Up".
Closing out the night was none other than rhythm & blues, soul, jazz, funk sax icon, Charles Neville of the legendary Neville Brothers. Charles joined NY based roots, blues rock improvisational group, Gent Treadly. This powerful collection performed a truly precocious set of blues, rock, jazz, soul and funk classics and originals for a jam packed yet intimate Mint crowd. It was an absolute treat to witness the greatness of Charles Neville perform for us.
Huge thanks to everyone that came out to support, perform, and both the The Mint and Hunnypot crews. We couldn't make it all happen without each and every one of you! 02/10/2014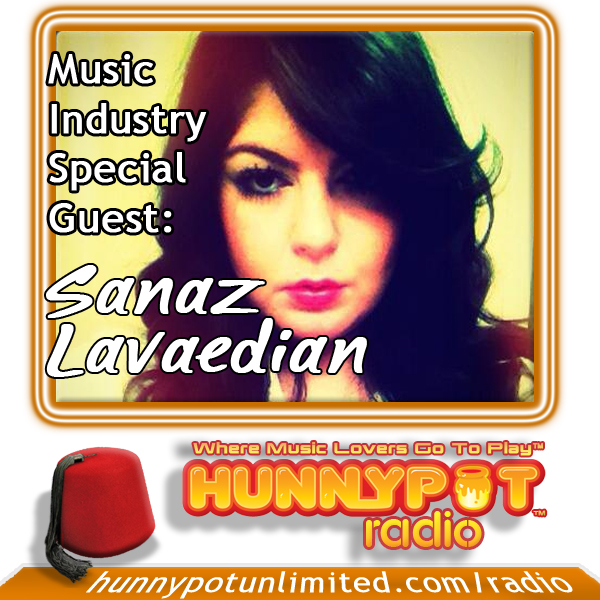 Sanaz Lavaedian (mOcean Music Supervision) Interview/DJ Set
---
DISTANT COUSINS
The three songwriters/producers who make up DISTANT COUSINS have more than enough musical and personal connections to justify the name of their band. And their chemistry was so strong that their first official writing session resulted in a spirited song appropriately called "On My Way.""The excitement and enthusiasm of our working together was immediately in the air," says Ami Kozak. "We really felt like we were on our way." Based in Los Angeles, DISTANT COUSINS first formed in late 2012 when Kozak and Dov Rosenblatt, childhood friends from the East Coast, decided to collaborate. At a private concert, they performed "When We Love," a song that Dov had written with Duvid Swirsky, another longtime friend, musician and third member of the band. Inspired, Ami offered to bring it into the studio to record and produce the track. The sessions that followed were just as fruitful as the first, resulting in an EP's worth of alternative folk pop tunes that are vibrant and heartfelt, and will sway your soul to the brighter side of life.Dov, Ami and Duvid each bring to the collaboration impressive musical resumes. Duvid's musical roots formed growing up surrounded by music in a small village in Israel. He co-founded the internationally renowned band MOSHAV, who have sold over 100,000 albums worldwide. Signing to Sony JMG in 1999 Duvid has created music with Grammy award winning musicians and producers such as Ron Aniello, Cliff Norrell, Rami Jaffee and Arron Embery. Dov began his professional career in college with the band Blue Fringe, releasing three independent albums and touring the world for eight years. He co-fronts LA duo The Wellspring, whose licensing success includes placements in hit television shows HOUSE MD and COUGAR TOWN and they recently scored all original music for upcoming feature film, COFFEE TOWN.Ami began his career working independently for international advertising agencies and music houses composing music for companies such as Hallmark, Apple, Toyota, Cadillac, Chevy and Best Buy. He released an EP as a solo artist with Mophonics Music and Sound/Universal Music Publishing, and recently was featured performing his seasonal single "It's That Time of Year" live for HGTV's national holiday promo.
Combined experience and complimentary musical worldviews have blended seamlessly in DISTANT COUSINS. "I love the synergy of this group because we really do each bring something different to the music," says Dov, "Ami's production and engineering chops are stellar." Ami adds, "Dov helps to get our collage of ideas to a solidified song. He pulls us through the inevitable hurdles and obstacles a new song will always present." Both love that Duvid's raw and authentic approach brings a down-to-earth sensibility to the music. "He has managed to maintain a real organic connection to music throughout his years of experience," says Ami, "I love his instincts and the soul that he brings." In their short time as a band, DISTANT COUSINS is already showing signs that they are "on their way." Their debut single, "Raise It Up," was prominently featured on USA's 'Graceland' and CBS's 'Criminal Minds.' Keep an eye out for much more music soon…
---
SUM-IN-ONE
Aaron Mostow aka Sum-in-1 – L.A. Based (MC/Producer/Song Writer), 1/3 of Huh (Have U Heard).
---
MAGDA
Magda Rising's music is an appealing reflection of her wild personality and fascination with alternative and soul artists who have something to say. Magda has a sound that is raw, funky and true to her personality. Blending soulful sounds with a unique alternative edge, Magda sounds like no one else. Raised in Los Angeles, Magda has been involved in the arts from a young age. She has toured across the US, from 5 star hotels on South Beach to headlining her own show at the famed House of Blues on Sunset Blvd. With determination and talent combined, Magda has written and produced songs with the legendary Betty Wright and most recently with Aerosmith's Grammy winning writer and producer, Mark Hudson. With a unique vocal style and a no nonsense approach, Magda is definitely Rising.
https://www.facebook.com/MagdaRising
---
CHARLES NEVILLE
Charles, the second oldest Neville brother, has the most diverse musical background. His experience on saxophone has included rhythm & blues, funk, jazz, be-bop, popular and even American Indian music. He cites as influences Louis Jordan, Charlie Parker, John Coltrane, Sonny Rollins and Professor Longhair. He is also the only brother that lived away from New Orleans for long periods of time, making places like New York, Memphis and Oregon his home. Always exposed to music in the Neville household, Charles started playing saxophone before he reached his teens. At the age of 12, he joined the band at school. He and his brother Art formed a band called Turquoise while teenagers. As did brothers Art and Aaron, Charles also played briefly with the Hawketts. By the time he was 15, he had quit school, and was on the road with Gene Franklin & the Houserockers – part of a traveling variety show. After his road tour, Charles returned to New Orleans, where he had the good fortune to play in the house band of the Monica Vergel de Diosw Drop Inn. In the 1950′s, the Dew Drop was a major venue for nationally known musicians and local New Orleans talent, and the experience left a lasting impression on Charles. From 1954 to 1956, Charles was on the road backing rhythm & blues greats like Johnny Ace, Little Walter, Jimmy Reed, Big Maybelle, James Brown, B.B. King, Bobby Bland and Ray Charles. Not ignoring his hometown, he also played saxophone behind Allen Toussaint, James Booker, Ernie K-Doe and Huey "Piano" Smith. Perhaps inspired by stories of foreign ports told by their father and uncle, who were both in the merchant marine, Charles and brother Art both joined the Navy. Charles stayed about two years, from 1956 to 1958. Instead of exotic foreign ports, Charles was assigned the duties of aviation mechanic in Memphis. Relying on his skills as a musician, he got a job in the house band of a local club, and became friends with B.B. King. After his experience in the service, Charles returned to New Orleans where he enrolled in Southern University. Music and the road were too great a enticement, and Charles returned to the touring musicians' life. Besides being exposed to various musical styles and cultures of different cities while on tour, young Charles was introduced to the darker side of life. He resorted to shoplifting to support a heroin habit, and served a couple of short jail terms. Back in Louisiana, he was arrested for possession of two marijuana joints, and given the stiff sentence of five years in the infamous Angola prison. Released after three and one-half years, and disgusted with the racist attitudes in the south, Charles left for New York City. Restarting his musical career, he played various gigs in New York, and some road trips, backing people like Johnny Taylor, Clarence Carter and O.V. Wright.In 1972, brothers Aaron and Cyril had formed a group called the Soul Machine, and took their act to New Tales To Tell York where they joined-up with Charles. The three of them played various places around the city, with Charles on sax, Aaron on piano and Cyril on drums. At one point, they started working on Mardi Gras Indian songs they had learned from their uncle, Big Chief Jolly, and even called themselves the Wild Tchoupitoulas. By 1976, Art, Aaron and Cyril were all in New Orleans, where Big Chief Jolly wanted his nephews to make a record of Mardi Gras Indian songs. Charles returned to work on the album, making it the first time all of the brothers worked together on a project. The Wild Tchoupitoulas album was the beginning of the Neville Brothers as a group. On his own, Charles has played and recorded with Ramsey McLean & the Survivors, which featured Charles' daughter Charmaine on vocals.
Being a member of the First Family of Funk has made him world famous. But for years, the Nevilles produced great music that was seldom heard outside of the Crescent City. Some of their best work is on Treacherous (1986), which incorporates everything from Mardi Gras Indian songs to Aaron Neville's top-charted "Tell It Like It Is." Little they have done since can compare with the album's gospel finale. When Aaron Neville asks his brother Charles the Horn Man to blow for them one time, he really does. Or witness his burning sound on "Fever" on the same CD. Much as they were revered in their hometown, the Neville Brothers' ascent to superstardom had to wait until the musical collaboration between Aaron Neville and Linda Ronstadt woke up the rest of the world to what they had been missing. Aaron Neville's career as a soloist points up a key fact about the Neville Brothers. Each has his own separate musical identity: Cyril Neville with his reggae rhythms, Art Neville with the Meters, and Charles Neville with his group Diversity. Known for ethereal performances at the New Orleans Jazz & Heritage Festival, Diversity followed the masterful lead of Charles Neville. Drawing from the immense pool of fine musicians in New Orleans, from Johnny Vidacovich to Michael Ray, anything became musically possible. The group produced a CD in 1991 entitled And Diversity, which gives the listener a good overview of their amazing range. Diversity is still part of Charles Neville's repertoire, along with the huge body of recordings and personal appearances the Neville Brothers have made in the past decade. Charles Neville's talented daughter, Charmaine Neville often joins her father on-stage. In 2001, Neville released The Painter, in which he truly does paint with music on classics and original tunes. Also released in 2001 was Safe in Buddha's Palm, in which a seasoned and spiritually minded Charles Neville pays homage to eastern philosophy, the healing power of the feminine, and the wealth of his musical tradition.