*Unfortunately the Audio recording for the 2nd half of the show was lost. :(
Hot Tub Johnnie and the HP Radio crew put another stellar Hunnypot Radio Show in the books.
Hot Tub kicked show #289 off with Willie Mae Big Mama Thornton before jumping into jams from Daniel deBlanke (Robotanists), Yung Lean, YG, Diplo & GTA, Fly Young Red and many more.
Joining us for a special sit down interview was Music Saves Lives founder, Russel Hornbeek. 
Kicking off our live segment was LA based pop rock artist, TODDZERO. Todd performed new songs and previously released tracks off his 2013 album, Kid Heart. With his mezmerizing vocals Tood weaved through a top notch set of electronic, indie pop, rock with a touch of soul and gospel. Portland based alt-rockers, Rags & Ribbons hit the stage next. This 3-piece outfit performed a melodic rock driven set anchored by classically inspired piano, post rock with rich harmonies and dramatic hooks. Next to rock the Mint stage was LA based rock n' roll, blues trio, The Universal Tone (T.U.T.). Lead by smokeshow vocalist, Jasmin Poncelet, T.U.T. cruised through a high energy set loaded with classic 70s rock n' roll influences which worked into a melting pot of today's harder blues rock acts. LA based (via Utah) wordsmith, Farah Moans lead us into the late night performances and kicked off the beat driven music of the night. Farah laced together a hard rhyming set over slamming hip hop drum beats. HP favorite, L-Boogie closed out the night with his hotly anticipated Birthday set. L-Boogie brought the bounce with his hard hitting hip hop set loaded with new bangers off his forthcoming Mixtape, Save Me From Myself.
Huge thanks to everyone that came out to support, perform, and both the The Mint and Hunnypot crews. We couldn't make it all happen without each and every one of you! 04/21/2014
RUSSEL HORNBEEK
Russel Hornbeek (w/ Music Saves Lives)
In 1987 at the age of 21 Russel Hornbeek started his own medical device company and specialized in the repair and sale of surgical instruments. Working worldwide, Hornbeek imported from Europe and the some Middle Eastern countries creating his own line of surgical instruments under his company Horn Surgical Inc. In 2003 sold his company of 17 years. In 2006 Music Saves Lives a non-profit was born out of the need to raise the summer blood supply. Hornbeek was able to bridge the gap between summer concerts and connecting students back to donating blood for their community. Over the last 25 years, Russel has managed and organized successful programs that have impacted lives around the world. Today, Hornbeek works with some of the top musicians in the industry, some of the largest concert series and many blood banks nationally and internationally. Music Saves Lives has been directly linked to over 1 million blood donations and over 14,000 marrow registrations. MSL is the largest summer program ever for the American Red Cross reaching students under 25 and has received 5 such awards. MSL is generating a new blood donor base by encouraging over 200,000 first time blood donors. Music Saves Lives has saved 11 leukemia patients, and potentially could have saved close to 850,000 lives through blood donations. He also maintains relationships with government organizations to be on call to counsel in crisis situations and has trained with Fire and FBI chaplains.
Links: https://twitter.com/00russ                 
---
TODDZERO
TODDZERO crafts kaleidoscopic sounds with sonic textures that are equal parts inclusive and infectious. The Los Angeles-based artist formerly known as ToddO has garnered success in the blogosphere and from the critics: Anthony Fantano, host of NPR's The Needle Drop podcast hailed TODDZERO as "a charismatic voice" and Under the Radar called the musician "a rare gem."
Links:
https://www.facebook.com/toddzero


---
RAGS AND RIBBONS
Rags & Ribbons play melodic rock anthems driven by classically-inspired piano. Progressive and post-rock influences by way of Queen, Muse, Arcade Fire and Sigur Ros color these intricate pop songs, expressing desire, yearning, regret and joy like only pop can. This Portland, Oregon band's debut album, "The Glass Masses" features elaborately structured songs with rich harmonies and dramatic hooks.
Links: https://twitter.com/ragsribbons


---
THE UNIVERSAL TONE

The Universal Tone (T.U.T.) is a rock n' roll, blues band formed in 2012 that meshes the classic sound of '70s rock with contemporary pop sensibilities. Front person and rhythm guitarist, Jasmin Poncelet formed the band with hometown friend and lead guitarist, Garrett Craig, with the mission to bring musicianship and songwriting back into the forefront of mainstream music. After a handful of successful performances in the L.A. circuit (Universal Studios 5 Towers Main Stage, Whisky A Go Go, The Viper Room Lounge, El Portal Theatre, etc…), and the addition of Kenneth "Biz" Mackenzie on drums, this band of gypsy's teamed up with Grammy Award winning engineer, Bob Horn to record their first feature project. The songs recorded were a collection of musical pieces and lyrics that Poncelet had been cultivating for the past three years and the outcome of those formations would eventually earn the title of T.U.T.'s the "Nebraska EP". "Nebraska EP" is due for public release in the first quarter of 2014, while their debut music video for the lead single "Nebraska" is slated for a fourth quarter 2013 release. The band has been enthusiastically described as a melting pot of Jimi Hendrix and The Black Keys, stirred together with the passion and ferocity of Poncelet's female fronted vocals.
Links: http://twitter.com/T_U_T_Jasmin
---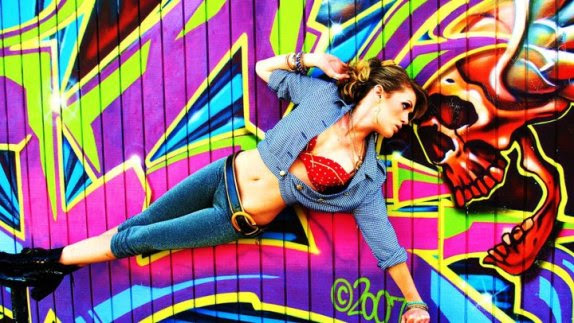 FARAH MOANS

With little direction or experience in songwriting, Farah began writing songs in every genre. Her own musical influences were so broad, she found it very difficult to hone in her creativity into one neatly packaged style. What became apparent, however, was Farah's uncanny gift with words and her ability to memorize her lyrics without ever having to write them down. Cognizant of her uncommon skills set, Farah decided on a whim one day to try and write a hip hop song  "Royal Flush". Farah began performing her rhymes as a sort of party gag around Hollywood for anyone and everyone who didn't believe she could rap. After one such freestyle session, Farah was introduced to Donte Boss by a mutual friend who thought the two would make for an awesome collaboration. Her hunch was correct. Farah and Donte quickly got a long like peas in a pod and saw an opportunity to develop Farah Moans' project into a completely new and unique sound. The resulting release, Farah Moans debut EP "Precious Moanments" is a harmonious mélange of styles and influences.