Prepare to have your mind blown. Perhaps the expression is overused, but not in this case. Michete smashes all expectations and norms with gender-bending presentation and lyrics that question and push the boundaries of sexuality, gender, and the hip hop genre as we know it.  With rave reviews and coverage from major outlets including SPIN Magazine, Pitchfork, Paper Magazine, and more, Washington-based artist Michete has blown up on the scene in just a short time and only two self-released EPs released so far.
Combining venom-filled disses, crass sexual come-ons, and left-field pop culture references with an androgynous gender presentation that is equally inspired by glam rockers, anime villains, and drag queens, transfeminine rapper and producer Michete is on the fast track to becoming one of hip-hop's most polarizing and exciting new acts. The dagger-tongued MC is unapologetically queer, delivering punchlines with a genderfluid braggadocio that sets her apart from her peers, frequently making listeners uncomfortable in the process. Drawing influence from a wide range of artists including Kanye West, Peaches, Nicki Minaj, and Kesha, Michete combines his unique lyrical stance and vocal demeanor with chintzy, economic, self-produced beats to create a sound that's completely her own.
Growing up in Spokane Valley, WA (a city she describes as being a "cesspool of white nonsense"), Michete is a former theater kid who had a natural charisma and an unhealthy obsession with Lady Gaga, honing her performance skills by singing in talent shows, acting in plays, and performing improv comedy all throughout middle and high school. She began dabbling in music around the time she graduated high school in 2010, and in 2014, decided to make a serious commitment to pursuing a career as a rapper. Michete released her debut EP, Cool Tricks, in June of 2015, and received considerable attention and acclaim from journalists and listeners alike, securing a spot opening for recording artist Shamir in Seattle the following September and later appearing on SPIN Magazine's year-end list of The 50 Best Hip-Hop Albums of 2015.
2018 finds Michete releasing her new album Cool Tricks 3. This instant underground classic contains "Tantrum" (duet with Shamir), her cover of the Dead or Alive classic "You Spin Me Round (Like a Record)" along with hot new originals "Rihanna Kraft Singles" & "Touch It". Michete's material is represented by Hunnypot for licensing.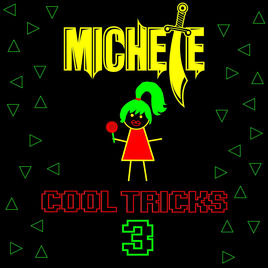 Michete's Cool Tricks 2 featured in SPIN!
SPIN Magazine's The Best Albums of 2016
Michete interview Hunnypot Live