The 293rd edition of the Hunnypot Radio Show was true to it's storied history. Featuring indie-dream pop of Seven Saturdays, hip-hop from DoZay, the untameable stylings of Hobosexual, and alt-pop new wave of Cold Blood Club, it was one of the most eclectic nights of music in recent memory - and that was just the live performances! 
HOT TUB JOHNNIE and the HP Radio crew put another slammin' show in the books. Nestled in The Mint's confines, Hot Tub Johnnie kicked off the show with and spread the HP love with tunes from Nashville's BEARHEART, LA's , A HOUSE FOR LIONS, HP fav's LUXXURY, LOUIS PRIMA JR., KRAAK & SMAAK, MANKIND, SEINABO SEY, DIE ANTWOOD, and more.
MOLLY BOHAS  of North Star Media joined Johnnie in the Hot Tub for a special interview and curated dj set. Molly tipped us to some of her favorite acts at the moment - including new music from HOBOSEXUAL, The Lower 48, GOLD, Aceyalone/Cee-Lo and much more. Be sure to listen back to catch the great interview and DJ set from Molly.  06/16/2014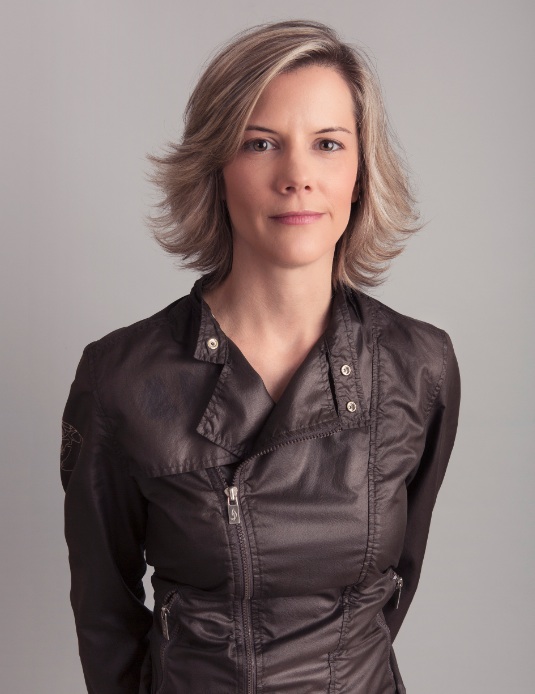 MOLLY BOHAS
As a Senior Director of Creative Services for North Star Media, I focus on signing artists, songwriters and composers, plugging songs and placing our diverse catalog into television shows, commercials, feature films, trailers, games, etc. Before working at NSM, I worked the other way around the creative process putting visuals to music for over a decade as a director's representative for music videos. I was one of the six original members of Anonymous Content and was fortunate to work with some of the pioneers and award-winning directors: David Fincher, Mark Romanek, Gore Verbinski, Wong Kar War, Garth Jennings, Jake Nava, Alan Ferguson, Joaquin Phoenix, Phil Griffin and Chris Hopewell to name a few. I worked on music videos for artists such as: Johnny Cash (Hurt), Jay-Z (99 Problems), NIN (Only), No Doubt (Hella Good), Beyonce (Single Ladies), Katy Perry (Hot N Cold), DJ Shadow (Six Days), Audioslave (Cochise), Prince, Pink, Alicia Keys, Jack White, Shakira, Linkin Park, Beck, LeAnn Rimes and Bon Jovi, Chemical Brothers, Fall Out Boy, Red Hot Chili Peppers, John Legend and Billy Corgan. I also associate produced six short films for al Gore's LIVE EARTH environmental awareness campaign, including those by Chad Lowe, Joaquin Phoenix and Malcolm Venville.
---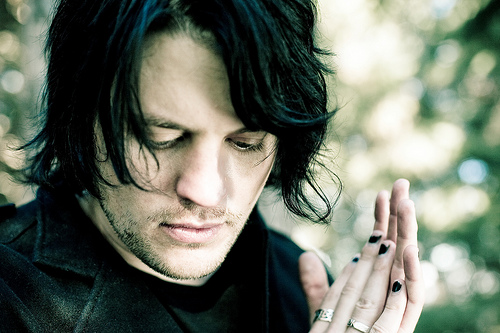 SEVEN SATURDAYS
Jonathan D. Haskell's work as Seven Saturdays is informed by the desolation of afterhours Los Angeles. From dimly lit Mulholland Drive to the isolated streets of Downtown, it is in these quiet moments symphonic landscapes emerge; coming together to form the headphone-centric Seven Saturdays. Seven Saturdays began as a creative concept in 2010 when Los Angeles musician/producer Jonathan D. Haskell wanted to sharpen his engineering skills on off days during the recording of his first two EPs (Seven Saturdays – which Stereogum described as "gripping and mellowly epic" – & The Snowflakes That Hit Us Became Our Stars). Over seven consecutive Saturdays, Haskell challenged himself to write, play and record an entire song each day. Not only did this exercise lead to the band's namesake and a full-length album (2011's Love In The Time Of Anticipated Defeat), it also grew into something Haskell had not anticipated. "It was really cathartic because not only did a fully realized ambient record emerge from this experience, but that vision ultimately expanded the boundaries of what I initially thought my musical direction would be," Jonathan explains, "whereas the first EPs were more structured and orchestrated, these 'ambient' recordings were free and sonically expansive."
http://www.sevensaturdaysmusic.com/
http://www.soundcloud.com/seven-saturdays
---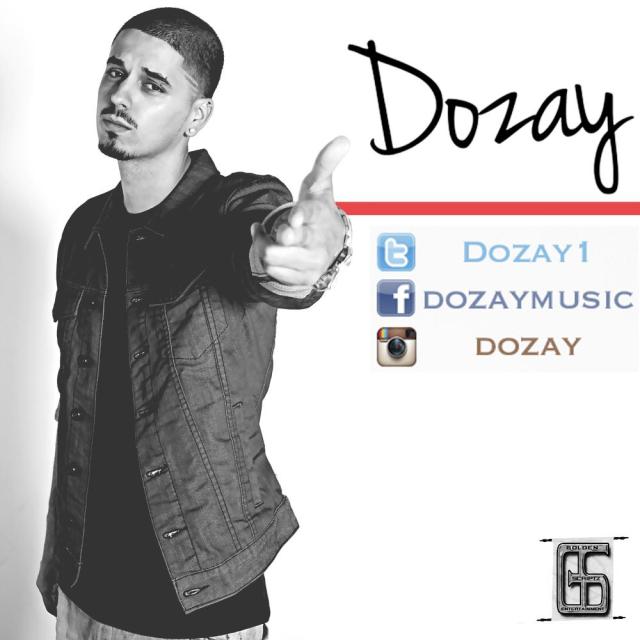 DOZAY
Born in new York and move to Los Angeles at the age of 3 years, his mom settled in the city of west Covina, which has both its negative and positive influence, but with the help of his step father on his side, Dozay shaped into a respectful, dedicated and hard-working young man. Dozay states,"From the beginning I knew I wanted to entertain people because I thought it was super dope.: Although some consider his music to be more entertaining than regular hip hop/ rap, Dozay still tries to maintain the elements of hip hop in his own work. He always makes sure that he does not stray away from anything else that's coming out musically and at the same time trying to give his music a bit of a make-up or face lift while trying to keep it real and delivering fresh while having fun at the same time. Dozay loves to entertain. He will always help sell tickets on behalf club promoters to club goers and in return the promoters will let him perform in the clubs for free. Behind Dozay, is the man they call "The African Jew".(GSE) The African Jew has been in the music industry for over twelve years.
---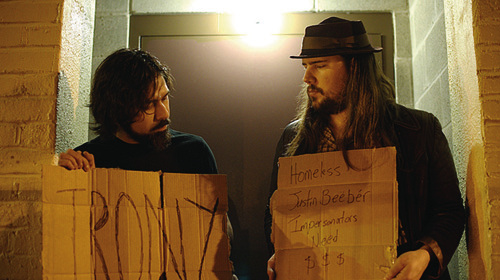 HOBOSEXUAL
"It's a sound with scurvy, a creaming of fuzzed amplification that builds and fans out. Way out. Think Thin Lizzie (sic) and Black Sabbath burning on a pyre of Lincoln Logs. It's a bloodletting of wattage with looping, chunked stacks of heaving guitars. If you're afraid of the rock, don't listen." – Trent Moorman (The Stranger)
Since guitarist/vocalist Ben Harwood began the band in Seattle, Washington near the end of 2009, Hobosexual has been making the most of their local notoriety and having a hell of a great time. They sold out of the thousand-copy run of their self-titled debut CD (Hobosexual, 2010) before they'd toured more than an hour away from home and then recorded a live album at Seattle's historic Columbia City Theater (Hobosexual: Live At The CCT, 2011), selling all two hundred cassette-only copies in a little over a month, all while they set the standard for other local rock duos with an uncompromising live sound that often sounds a hell of a lot more like a tastefully overdriven heavy metal quartet successfully attempting to drown out an exploding Boeing 747 engine. Now that Hobosexual has become a regular act at local music festivals (including the inaugural Timber Outdoor Music Festival in 2013 and Slack Fest – the raucous summer birthday celebration of KEXP-FM's music director Don Yates – in 2012 and 2013), appeared on several local radio and TV broadcasts (notably KJR-FM's Bob Rivers Morning Show, KEXP's Audioasis with Hannah Levin, and Art Zone with Nancy Guppy), and sold out of their first self-produced line of pre-packaged 3-3/4" action figures, the band is releasing their second studio record, Hobosexual II. It's fair to say that risks have been taken in making this album louder and heavier than the swampy lo-fidelity blues of their first release.
https://www.facebook.com/Hobomusic
hobosexualmusic.bandcamp.com/album/hobosexual
---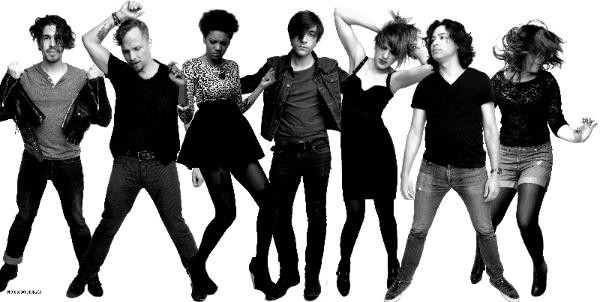 COLD BLOOD CLUB
Cold Blood Club is a dark, indie rock love letter to New York City that puts a new spin on the electro dance/pop sound with an edgy blend of soul and rock influences.  Inspired by life in New York and the likes of New Order, Depeche Mode, Broken Social Scene and The Flaming Lips, guitarist/songwriter Tom Stuart (Radio America) began writing songs for powerhouse singer Kendra Jones. What started as a small studio project quickly evolved into a collective of dynamic live musicians.  After recruiting former bandmates Jesse Reno (Radio America) to play bass and Brad Peterson (Earlymay) to join on lead vocals, Cold Blood Club was soon joined by wunderkind drummer Shin Kamei (Angela Jane), flame haired violinist Hilary Davis (Bella Koshka) and Adina Benno on keys.